Placename : Kilcockan
In Irish : Cill Chocáin Administrative Unit : Parish
Pronunciation Audio File
---
Administrative Details:
---
Description:
This Parish lies along the left bank of the Blackwater-southward from the junction with the latter river of the gently-flowing Bride. Of limited area, Kilcockan embraces a considerable proportion of mountain and is noted for its fine scenery. The historic associations of the parish are insignificant, and its place names of only moderate interest, apart from the ancient church which gives the parish its name.
Old Irish Typeface
Parish Location Map: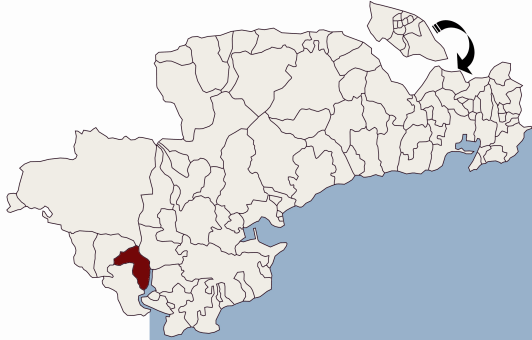 Townlands:
Ballybrack, Ballyphilip East, Ballyphilip West, Ballyroe, Bawnlaur, Carnglass, Crossery, Glengoagh, Kilcockan, Killeenagh North, Killeenagh South, Killeenaghmountain, Kilmanicholas, Knockanore, Lisglass, Monang, Newport East, Newport West, Scart, Sleveen, Strancally, Strancally Demesne,
---
Related Resources
To view full-text articles you will need to ensure you have Adobe Acrobat Reader loaded on your PC.
Online Books and Journals
Full-text monographs, journals, and articles of Waterford Interest include useful resources for Affane:

Placenames Database of Ireland
This is a comprehensive management system for official data, archival records and placenames. The public website is primarily aimed at journalists and translators, students and teachers, historians and researchers in genealogy. It is a public resource for Irish people at home and abroad.